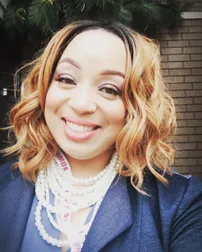 Reia Chapman, MSW, LISW-CP, LCSW
Founder, Director of Clinical Services
Reia Chapman, MSW, LISW, LCSW-CP is a professional social worker, activist, psychotherapist and nationally sought after speaker. She holds a Bachelor of Science degree in Psychology from the University of North Carolina at Charlotte and a Master of Social Work degree from Savannah State University. She has an extensive background as a social justice organizer and activist across the intersections of Reproductive Health, Rights, and Justice, police accountability, and Queer and Racial Justice movements.

Embodying both a calling and a commitment to collective liberation, justice and mental and emotional wellness, she founded the Center for Family & Maternal Wellness, an outpatient psychotherapy practice in 2016 and is the current Director of Clinical Services. In 2016, Reia also founded the Social Justice Emotional Response Collective (Charlotte Uprising Emotional Response Team), a delegation of over 100 clinicians and healers to provide free mental health support during the Charlotte Uprising and she continues to serve as an advisor to local and regional grassroots organizers to date. Always centering the most marginalized in her endeavors, Reia continues to cultivate her commitment to her community through activism, education, service, and advocacy. She is well versed in policies and legislation affecting Gender Diverse and Black and Indigenous People of Color (BIPOC) communities from children and adolescents and the growing aging population to the various forms of reproductive oppression and state sanctioned violence. In 2018 she created Decolonizing Therapy,™ a culturally affirming series of workshops for community members and helping professionals designed to improve BIPOC self advocacy and teach appropriate relationship building and intervention strategies in BIPOC communities.
Reia specializes in working with Black Women and Queer and Trans People of Color. She is clinically trained in Cognitive Behavioral Therapy, Perinatal Mood and Anxiety Disorders and Gottman Method Couples Therapy. Reia works with couples to increase respect, affection, and closeness, break through and resolve conflict, generate greater understanding between partners, keep conflict discussions calm and maintain improvements in the relationship.
Reia is a member of the Charlotte Transgender Healthcare Group (CTHCG), the North Carolina Black Women's Roundtable, The Queer and Trans People of Color Collective (QTPoCC), the National Association of Social Workers (NASW), and has been featured in various publications across the nation for her work in advancing the field of mental health in Social Work. Read more about Reia HERE.
Gender Pronouns: she/her
Accepting New Clients: No
---
Khrys Amaya, MSW, LCSW
Outpatient Therapist
Bilingual Therapist
(803) 487-5227
Khrys Amaya is a Bilingual (English/Spanish) psychotherapist who graduated with a Master of Social Work and concentration in mental health from the University of South Carolina. She has experience working in South Carolina, Virginia, and New York City and has worked in various practice settings including inpatient and outpatient mental health. Khrys has training as a trauma informed psychotherapist and is a Certified Crisis Debriefer with extensive experience in crisis intervention. Khrys specializes in working with adolescents and young adults, and has worked with all age groups to define their presenting issues, goals, and objectives.
She is a passionate and enthusiastic therapist who believes that having therapeutic alliance and a safe space to explore emotions and thoughts are vital in the emotional healing process. Khrys uses a strengths based, authentic, and eclectic approach in combining creative modalities with traditional talk therapy to enhance emotional well being, resilience, and empowerment.



Khrys Amaya es una psicoterapeuta bilingüe que se graduó de la Universidad de Carolina del Sur con maestría en trabajo social con concentración en salud mental. Ella tiene experiencia trabajando en Carolina del Sur, Virginia, y la ciudad de Nueva York y ha trabajado en varios ambientes de práctica incluyendo programas residenciales de salud mental y clínicas de terapia. Khrys tiene entrenamiento como psicoterapeuta de trauma y es certificada en apoyar situaciones de crisis con extenso experiencia en intervención de crisis. Khrys especializa en trabajar con adolescentes y adultos jóvenes, y ha trabajado con personas de todas edades para identificar sus temas delicadas, metas, y objetivos.

Ella es una terapeuta apasionada y entusiasmada que cree que tener una alianza terapéutica y un espacio seguro para explorar emociones y pensamientos son vital en el proceso de sanarse emocionalmente. Khrys utilice un enfoque auténtico y ecléctico de terapia establecido en las fortalezas de una persona. Ella combina modalidades creativas con terapia tradicional para mejorar salud emocional, resiliencia, y empoderamiento personal.

Gender Pronouns: she/her/hers
Accepting New Clients: No